Explore Lake of Bays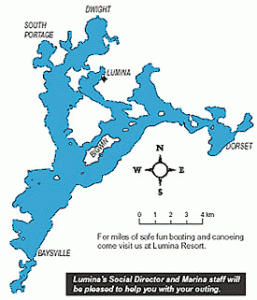 Lake of Bays is one of Ontario's finest lakes. As it's name implies it is made up of many sheltered bays, sparkling clean water interesting sites and gorgeous shorelines to view.
The islands are many and the bass and Lake Trout fishing is top notch.
The three villages of Dorset, Baysville and Dwight are fun to visit by boat. Excellent shopping, lunching and sight seeing are what you can expect.
Other interests include, a trip up the Oxtongue river, boating by historic Bigwin Inn, viewing an old steam ship or cruising the islands.
WATERSKIING
The quintessential cottage experience – a spin around the lake on water skis or a wake board.

$20.00 skiing, $15.00 Tubing, $27.00 wake boarding – Schedule and sign up available at front desk.
WATERFRONT ACTIVITIES
The lakefront offers canoeing, kayaking, windsurfing, sailing and peddle boating.
Rent a canoe and go for an early morning paddle, the lake is like glass, the morning mist is lifting and you are alone with nature. Kayak out to our private island, go for a swim or just sit on the rocks and take in the view. Try a windsurfer or a sailboat on a windy afternoon. Or for the less adventurous types, just peddle boat your way along the shoreline.
The equipment is signed out in the boathouse. A minimal charge is added to your bill, for the type of equipment you use and the length of time taken out. Boats, canoes, etc. can be reserved for the week see the Marina Page for prices. This should be done ahead of your arrival time through the main office.
Lots of water toys on the waterfront, Space Mountain which is a ball to climb up and jump off, a water trampoline, a slide off the raft. The water volley ball net is always up, so get a game going, Great fun and good exercise. We have beach toys like pails and shovels but you are welcome to bring your own.